I³-STM

Gremse-IT GmbH is cooperation partner in the EFRE project I³-STM with the title "Individualized, integrin-targeted and immune-activating SAB Therapy of Tripelnegative Metastatic Breast Carcinoma". This research project aims to develop synthetic antibodies (SAB) as unique individualized immuno-oncological approach for improved breast cancer treatment of patients with tripel-negative metastatic breast cancer (TNBC). SABs recognize tumor-specific marker molecules on the tumor endothelium and in the stroma. For this purpose, relevant targets will be identified, validated, and evaluated in vitro and in vivo in TNBC mouse models.
The I³-STM consortium consists of four SMEs (Syntab Therapeutics, Taros Chemicals, TECOdevelopment, Gremse-IT GmbH) as well as three academic partners from the University Hospital RWTH Aachen (Experimental Imaging, Medical Clinic III, Laboratory Animal Science).
This project was funded by the European Regional Development Fund (ERDF) Development (EFRE, funding code EFRE-0800390) and the German state North Rhine-Westphalia. It started on the 14.10.2016 and ended in September 2019. Due to the great success of the project, a follow up project received another period of funding, TAKTIRA, where Gremse-IT GmbH is part of the consortium again.
Within this project, Gremse-IT performed µCT-FMT-reconstructions of the in vivo data and provided the analysis software to assess the distribution of fluorescence  intensities in single organs of interest as well as in the tumor.
Have a look at the research results in this publication: "A collagen-binding protein enables molecular imaging of kidney fibrosis in vivo" Baues et al. 2020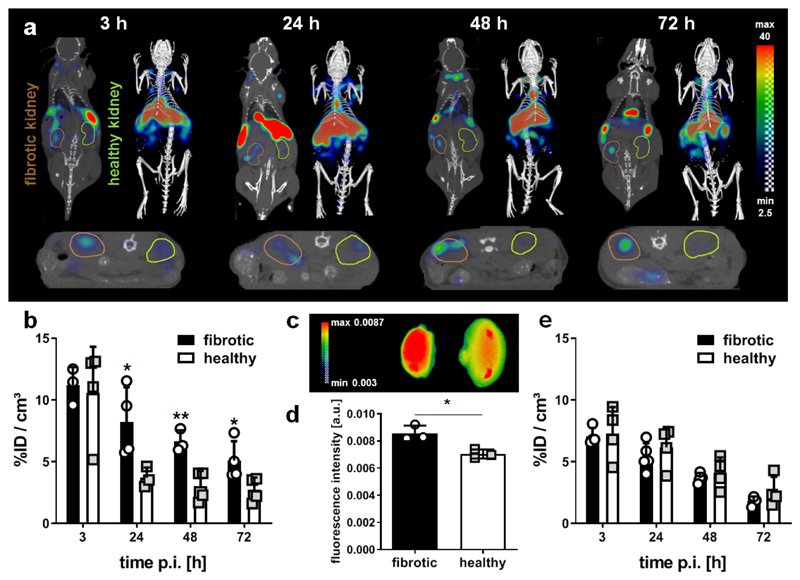 Baues et al. 2020