Gremse-IT GmbH is a software spin-off company that was founded and is still located in Aachen, a research and technology center in Germany. The main focus of the company lies on offering innovative software for biomedical image data reconstruction, processing, and analysis.
In 2016, CEO Dr. Felix Gremse founded the company and successfully commercialized his first software product 'Imalytics Preclinical'. The software is mainly used for reconstruction, 3D-visualization, interactive segmentation, and analysis of biological and medical image datasets. It can be applied for a wide variety of biomedical issues, such as cancer research, biodistribution studies, gastroenterological issues, or bone analysis, and for data sets from several imaging modalities, such as CT, MRI, PET, SPECT, and optical imaging. Because the software is variously applicable, it was already used by several pharma companies (Rocher, Bayer) as well as by research institutes in Jena, Aachen, Frankfurt, Hannover, and Düsseldorf. Thereby it supported publishing over 80 scientific research articles (find a selection here: References).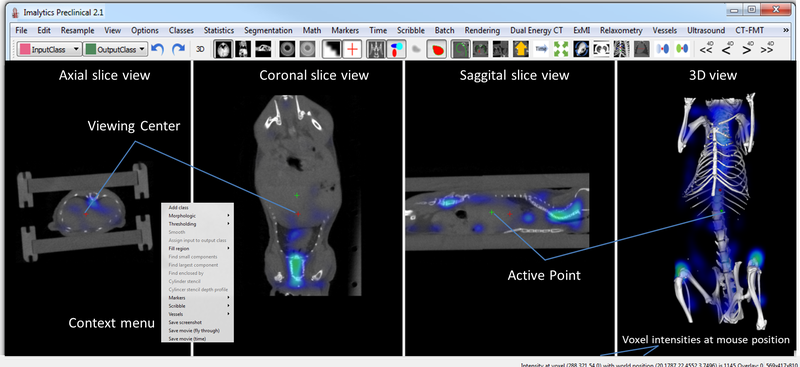 Nowadays, the company has been successfully established on the national and international imaging market and is continuously growing. Our interdisciplinary team consists of scientists with an excellent theoretical knowledge, but also with long years of practical experience in the field. In our international team, we employ specialists of Computer Science, Programming, Image Analysis, System biology, Biology, and Medicine. Gremse-IT GmbH holds successful cooperations with national and international companies and clients such as Bayer, Roche, and MILabs.
In addition to the development, commercialization, continuous improvement, training, and modification of our software Imalytics Preclinical, Gremse-IT GmbH also offers various services:
Advice on planning, implementation, and evaluation of (multimodal) imaging studies
Reconstruction, fusion, and analysis of image data
Support for data and image analysis (tutorials)
Software for Imaging Devices (OEM Software)
If you have a special request or just want to get in contact with us, please feel free to send us an eMail.